PARIS (AP) — French centrist Emmanuel Macron faces an unprecedented challenge in his quest for the French presidency: A newcomer to politics, he was virtually unknown to most of his countrymen just three years ago.
Now the tenacious 39-year-old with strong pro-business and pro-European views, and an unconventional love story, is poised to face far-right National Front leader Marine Le Pen in the May 7 presidential runoff.
A joyful crowd of some 2,000 supporters gathered at his election headquarters in Paris cheered wildly at the announcement that Macron will advance to the second round. Their enthusiasm only grew when major rivals Socialist Benoit Hamon and conservative Francois Fillon conceded defeat, then urged voters to vote for Macron in the runoff in order to defeat Le Pen.
In an American-style move unusual in French politics, Macron appeared on stage hand in hand with his wife, Brigitte, both waving at the crowd with tears in their eyes.
Brigitte Macron is 24 years his senior — the same age difference as Donald and Melania Trump— and Macron doesn't hide that she is his closest adviser.
In his speech, Macron praised supporters for a campaign that "changed the course of our country." Urging hope in a future with Europe instead of fear — a reference to Le Pen's anti-European Union campaign — he declared: "The challenge is to open a new page of our political life."
Many in the jubilant crowd waved both the French tricolor and the European Union flags, chanting, "We will win!"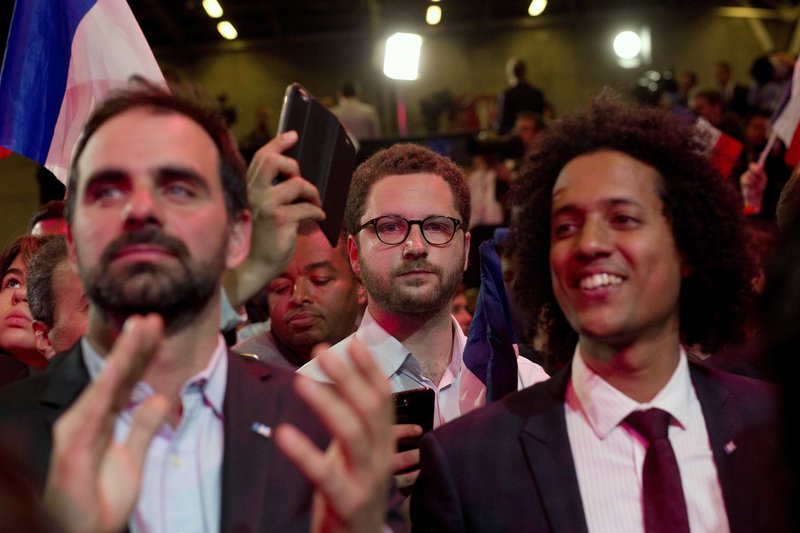 Charlotte Rousselet, 31, said she used to vote for the Socialist party but believes Macron has "more modern, reformist views."
"He represents a new way to do politics, he promotes women, youth, people for the civil society and he's not afraid to say that he is pro-Europe", she said.
This report was originally published in AP News and can be reach at Unconventional Macron